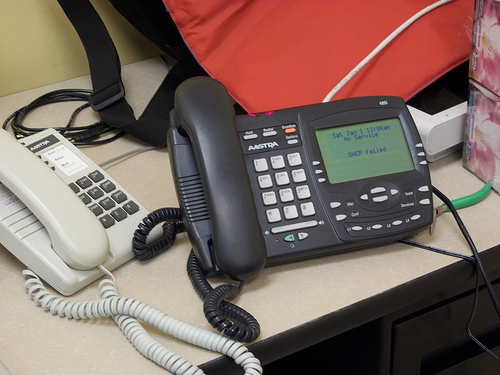 Today, there are a number of good hosted VoIP services for all businesses including the small businesses that rely on open internet connection. This means that they do not control the total pipe or even the connection to the switch. You can choose either the business VoIP service or hosted VoIP service if you are looking to reduce operational costs and improve your productivity. If you are looking to deploy VoIP technology, then here are few things you need to consider:
Your network
You may want to start with those things that you have control over and your network is no exception. Make sure that it doesn't have problems that can affect VoIP calls. What you need to confirm is that you are using a DHCP router, that your computers are up and running and that your switches are in good shape before the deployment of VoIP technology. Also, check what hardware you have in place and whether it is going to support the technology in order to improve voice quality.
Check your bandwidth and other things
While bandwidth is an important aspect to consider especially now that you are going to handle simultaneous calls, it is also important to ensure that your internet connection is quality. Yes, you may want to consider an upgrade of the bandwidth if audits reveal issues with your bandwidth. If there is packet loss, then your calls are going to suffer. You don't want a situation where there is too much latency, so make sure that the internet connection is great and stable. Most of the times, the connection from your VoIP provider has to cross several networks but it is prudent to ensure that you go for the lowest amount of hops because this way, your network won't suffer from intermittent connections. You may want to run trace route in order to see how many other routers you have to pass and the time it takes to get there. Do this on different days and on different times of the evening or day.
Price
You could be on budget but choosing the lowest price could be a caution flag and cheap could turn out to be expensive, especially when it comes to a service. It is prudent to go for a price range that is reasonable; you will be happier at the end.
Features
The most important thing when deploying a VoIP solution is to look at the features and how the information is presented. You would rather buy time than rush into things that can create problems later on. In fact, even the smoothest deployments may have problems or won't go as planned. So, build some buffer into your schedule to ensure that you get the right thing.
Security
While it is good to deploy new technology, it may come with security issues if you don't put it into consideration. It is important to ensure that nothing will compromise the quality of your service. Simplified Telephone Solutions offers simplified yet superior voice and data solutions. We utilize the most advanced techniques in order to keep hackers away from your network. Contact us today for your VoIP needs.